My husband is a handyman too. And I believe this cool belt buckle would be an excellent Christmas gift for him, and hopefully for your husband too.
I thought I would have a hard time with finding a present for him this year.
I am not very good at looking for gift ideas or shopping for presents. So I was very delighted and thankful to find this item!
Compact SOG Sync II Multi-Tool Belt Buckle
The name of this product is called the SOG Sync II Multi-Tool wearable buckle. The SOG company had really planned well in creating and designing this compact tool; it is such a genius idea.
Since this item is made of stainless steel, this would be perfect for my husband because he is not allergic to it. I've heard there are individuals who can't wear a watch made of stainless steel because it gives them rashes. Make sure your husband is not sensitive to stainless steel!
Cool Belt Buckle with Wearable Multi-Tool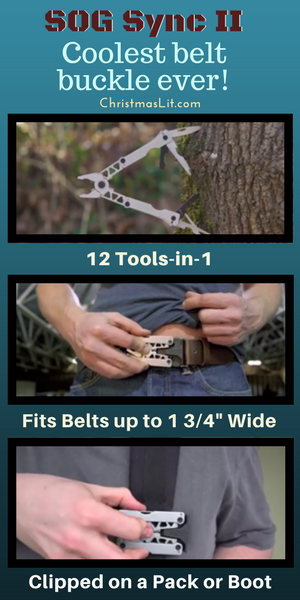 The buckle has so many cool gadgets that come with it. You will be extremely surprised to know how this little thing can hold so many items.
Here is a list of the gadgets:
Scissors
Pliers
Bottle opener
Gripper
Crimpers
3-Sided File
Soft wire cutter
Ruler
Straight Edge Blade
Phillips Screwdriver
Small / Medium Flathead Screwdriver
And by the way, it also comes with a knife - this makes the cool gadget 12 tools-in-1. My husband always has his little knife with him on his key ring. And so with the SOG buckle he won't need his knife anymore.
I can't believe how this thing is packed with so much neat stuff. It's certainly a cool multi-tool. I think this is the coolest belt buckle ever!
This buckle can fit belts that are up to 1-3/4" wide. This is so handy because you can carry it around with you. You won't need to worry about where to put it because it can be attached to a back pack strap, boot, or belt (of course it can be used as a buckle for the belt). With one hand it can also be easily removed or detached when you need it.
And of course, any time when you need it, you can easily locate it because it is attached to you. How cool is that!
If my husband ever goes somewhere and wished he had a certain tool for whatever he needs—such as screw drivers, pliers, or a pair of scissors—I'm certain this tool would help him. He would certainly be happy to have this with him. I think he would feel so cool carrying this around too, like a secret agent.
Does your husband love going outdoors? This is great for him too. My husband loves to camp out, so this is a very handy gadget for him to bring with.
Neat Christmas Present Belt Buckle for Him
When there are so many choices of gifts around it can be hard to decide on which one to pick. I believe this SOG Sync II Multi-Tool cool belt buckle is a very neat Christmas gift for that special guy in my life and for your special one too.