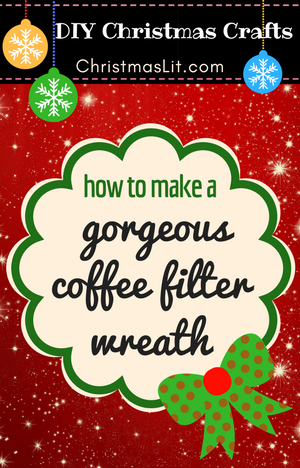 Are you a coffee person? Have you had your coffee this morning? Today you are in luck, because I have good news for you. You will be extra thrilled to see this DIY craft tutorial on how to make a gorgeous coffee filter wreath for your Christmas home decor.
This project is so fun to make. I hope you won't feel as if you are wasting your coffee filter supply.
For health reasons, I don't drink coffee―it's not good for my adrenal functions. But I can eat just a little bit of chocolate. But I do really, really love the aroma of coffee, hmmm.
I do have unbleached (natural) coffee filters at home, but I use them to wrap my food so that I can freeze them in single servings. I use the unbleached ones because I don't want my food absorbing the chemicals that were used for bleaching the paper filters.
Every time I saw them sitting in my cupboard, I could sense that there was some way that it could be used creatively.
Lo and behold, I was so amazed to see this video on YouTube the other day. What an ingenuous idea!
My Crafting Tips:
When I use ribbons for decorating wreaths, I love using the sheer, wide ribbons with golden edges that have wire in them.
To fasten the bow to the styrofoam, I prefer using a pin than gluing with hot glue. With pins, you can reposition the bow anytime you want. Also, you can change the bow when the season changes or when you are celebrating special occasions.
In this tutorial, I have also included the video timestamp for your ease in following the demonstration. Scroll down below.
Supplies Needed
Ribbon
glue gun
glue sticks
Step by Step Instructions
0:33 – 0:56 . . . Coffee filter prep – Flatten each coffee filter on a flat surface, one at a time, with your hands.
0:57 – 1:18 . . . Floral coffee filter assembly – Pinch the center of the coffee filter and form a floral shape to create a ruffled effect, then twist the pinched tip.
Wreath Assembly:
1:19 – 1:55 . . . First layer – Hot glue the floral twisted tip around the outer side of the styrofoam ring.
1:58 – 2:36 . . . Next layers – Continue hot gluing the coffee filter flowers around the ring until you fill the empty spaces.
Finishing Ideas: Add a decorative touch:
2:37 – 2:50 . . . A) Wall or door decor: Make a bow and attach it to top of the wreath.
2:51 – 3:10 . . . B) Center piece: add a candle holder (jar) with a candle in it and put it in the middle of the finished wreath.
Easy Christmas Decor
This Christmas decor is so simple and easy to make.
How about you make 2 for your home?
1. Make one for the door using the white coffee filters and
2. One for a center piece with the unbleached ones.
Or make another one. . . And another one. . .
This is a great gift idea for coffee lovers. When you deliver the gift to a friend, you can ask them if they could guess what it is made of. You can also add a scented coffee candle in a jar with your gift.
. . .
Think coffee! 😉