When I found this spice herb rack – it reminds me of the funny joke that was sent to us.
My husband and I just got done in putting together our church district newsletter. Here is the funny joke that was submitted to us.
Little Johnny and his family were having a dinner at his Grand-mother's house. Everyone was seated around the table as the food was being served.

When little Johnny received his plate, he started eating right away.

"Johnny, please wait until we say our prayer."

"I don't need to," the boy replied.

"Of course, you do," his mother insisted. "We always say a prayer before eating at our house."

"That's at our house." Johnny explained. "But this is Grandma's house and she knows how to cook."
Grandma's Christmas Gift: Rotating Herb and Spice Rack
Who has a grandma that enjoys cooking delicious food in the kitchen? We don't know what it is
(maybe it's all those years of experience),
but our grandma can really cook.
Every Christmas, her cooking is one of the reasons why we look forward to going over to her house.
This Christmas, for those of you that plan on going to your grandma's house, what type of Christmas present do you plan on giving her?
There are many different Christmas presents you can get your grandma, like a weighted blanket, wind chimes and so on.
However, if you have a grandma that enjoys cooking, then you may want to get her a good herb/spice rack.
After scouring the Internet, looking for different types of cooking racks, I discovered one by Cole & Mason that I feel would make a great Christmas present for grandma.
Why did I choose this particular spice rack?
Cole & Mason isn't a company that is new to the industry – they have been around since 1919 and are well known for their world-renowned salt and pepper mills designed in England.
Cole & Mason Spice Rack Carousel Special Features: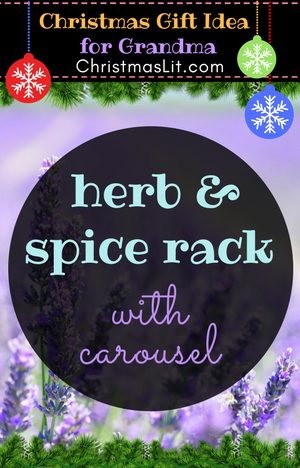 Here are the product features that make this spice rack so special:
Rotating Carousel with Glass Jars
There's just something about a spice rack that rotates – it makes finding the spice/herb a whole lot easier while cooking. Not only does this one rotate, it also comes with 20-beautiful glass jars that are pre-labeled. As an added bonus, they are also pre-filled and have twist tops that are easy to open and close. In the box, each jar comes sealed, so you don't have to worry about freshness.
Twist Tops
The Twist tops offer two dispensing options – sifting or pouring. They also help keep the spices and herbs fresh and easily twist.
Lids are Labeled
The names of the spices have been etched on top of the lids, so you'll be able to find the right spice when you need it.
Herbs include:
Caraway Seed, Cumin Seed, Coriander Seed, Ground Bay Leaves, Ground Basil, Ground Chili Flakes, Ground Cinnamon, Ground Fennel Seed, Ground Marjoram, Ground Dill, Ground Oregano, Ground Mint, Ground Parsley, Ground Paprika, Ground Thyme and Ground Rosemary.
Spices Include:
Bay Leaves, Basil, Celery, Coriander, Chili Flakes, Cumin, Coriander, Dill, Italian Seasoning, Cinnamon, Paprika, Parsley, Thyme, Rosemary, Savory, Caraway, Fennel, Marjoram Oregano, Mint and Mustard Seed.
Spice Rack
The spice rack itself will look beautiful in every kitchen – it's a stunning carousel that can be set on the counter. However, if grandma doesn't care for it on the counter, she can easily put it in the kitchen cabinet.
Dishwasher Safe Spice and Herb Rack for Special Grandma
When it comes time to wash the jars, if grandma has a dishwasher, all she has to do is put them in a dishwasher as they're dishwasher safe. The labels on the lids make each spice/herb easy to find and the spice rack itself will look amazing in the kitchen.
All in all, I believe this would make a great Christmas present for those grandma's that enjoy spending time in the kitchen.