Have you heard of a no ink digital camera with a built in printer? Yes, there is such a thing. Actually, I was so surprise to find this out. Your teenager will surely be amazed when she receives her Christmas gift.
This would make a great gift for someone that wants a novelty camera which instantly prints off photos. Perfect for parties, festivals, family get togethers and all sorts of social occasions.
If your daughter loves going to parties — she and her friends will have fun taking pictures with it.
Do take into account though that if you are buying it as a gift make sure that you buy the required photo paper and if the photos are to be saved digitally a Micro SD card will also be needed.
Polaroid Snap Instant Digital Camera — Video Demos
See the demo videos below on how to use the camera including the loading of film (paper) and printing.
The Polaroid Snap Instant Digital Camera comes in a variety of colors including black, blue, white, purple or pink.
You can buy the basic set that just includes the camera or upgrade to a 20 sheet photo paper bundle or a gift set that comes with stickers, photo frames, hanging frames and other accessories.
OK, if you've read this far and think it might be a good gift for someone you know, we are now going to delve into the features and the pros and cons.
Features: Instant Digital Camera with Built In Printer — No Ink Needed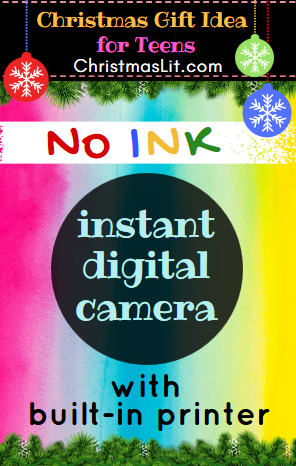 This is a 10 megapixel camera that prints photos instantly without the need for a printer. It comes with a micro SD card slot that cards up to 32GB. The battery is built in and is charged using a USB. Instant photos at the touch of the button is basically what this camera offers.
Pros
Instant Photos - There is no other reason to buy this camera over any other standard digital camera than its ability to print off instant photos! Perfect for giving as a memento of a special occassion.
Compact - small and as Polaroid describe it 'minimalist' it can easily fit in a pocket, it also comes with a wrist strap and a magnetic lens cap. With the latest firmware release if you try taking a picture with the lens cap on it won't let you, saving on wasted photo paper.
Rechargeable - doesn't need extra batteries as it has an internal battery that can be charged by USB.
Micro SD Card Slot – the camera will not store photos unless a micro SD card is installed. If you want to keep photos to upload to digital sharing sites or your computer then you will require this. Also note that if you have paper in the camera it will instantly print off the photo. So if you want to just take digital photos remove the paper.
Cons
Expensive paper refill – unfortunately this is the same with all instant photo cameras, the price of having instant photos does come at a premium.
No Instructions included – though it is simple enough you would expect an instruction book to be standard. This is no big deal though as you can do a search on Google and the PDF is easily found and downloaded. But kids in this new generation can figure so easily on how to make things work.
Camera easy to turn on when not in use – this seems to be a design flaw in that the view finder is used to turn the camera on and off. While this might have been added for ease of use it also means that it is very easy to turn the camera on accidentally when in a bag or pocket. The camera doesn't come with a case so the best remedy would be to buy one and keep it in the case when not in use.
Have Fun with No Ink Camera
This is a fun camera that we believe is worth its price though obviously if you are going to print off a lot of photos it will get expensive. Don't expect fantastic quality photos either this is for fun use rather than professional.