Here's what I can suggest for you―it's this ladies' pink tool kit.
This set is perfect to have at home for simple tasks that they could easily be done without paying a handyman, which can be costly.
If you have a daughter going off to college this is great for her too. She can use any of the gadgets in the box for her apartment. Maybe she needs the kit for tightening some screws in putting together her new small furniture, or maybe for unscrewing the screws when tearing down her belongings after school.
The tools can be used for minor repairs around the house or office or for any craft projects. With this tool kit in pink, women can do simple repair jobs at home.
And also those who love making crafts can use this set too. They will absolutely love and have fun with this pink kit.
I just showed this tool set to my husband and I told him that I would like to have this as a gift, but he never made a comment. Of course, he is not an excitable person.
Fun Pink Tool Kit for Crafting and Home Projects for Ladies to Enjoy
I never thought that there is such a cute pink tool set. When I found this I was totally surprised. I thought manufactures are making fun pink stuff for little girls and baby girls only.
Well, if my husband would really get this for me, it would no longer be a surprise for me. But still, I would be truly delighted to receive it.
If I would get one, I would always have the tool box easily accessible to me. This would really benefit him. He wouldn't need to fix things as much for me. Just a few days ago, I couldn't find a screwdriver to tighten the handle on my frying pan, so I handed the frying pan to him and let him take care of it for me.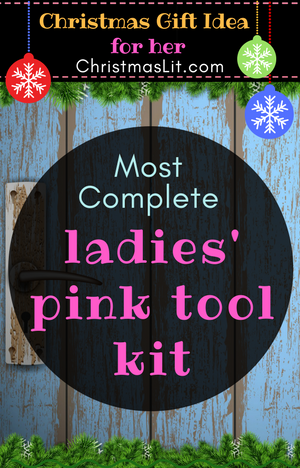 But here's the reason why I'm wishing to get one of these kits. For one thing, I love doing crafts. I found other kit sets, but they don't have the items that I need most for making craft projects.
This box that I have found has the following gadgets that I need for crafting — the most complete. These are the top ones:
Needle Nose – I just asked my husband what's the name of this tool. I've always referred to this as the "long nose." ;) I use this for cutting wire and also for curling the ends of the wire when I make wire hangers for my crafts. It's really useful for my crafting needs.
Saw and Blades – I use them for cutting small pieces of wood such as dowels. I use dowels for hanging things such as handmade mini-quilts for Christmas. I also use dowels for home projects too―to hang window valances and light-weight curtains.
The box is roomy and has an extra space that will allow me to add a few things that I might need.
The "pink set of tools" in the box will allow the user to create simple DIY home decorating projects.
The handy gadgets, such as the hammer and the level, can be used for hanging picture frames. The hammer can also be used for decorating the garden or patio to hang the plants.
They are light-weight and are not bulky, so they are excellent for women to use and to handle them.
170 Pieces of Pink Tools in the Box from Apollo
Here are the tools that are included in this kit:
1/4" Bit Driver
2" Bit Connector
6" Long Nose Pliers
6" Diagonal Pliers
6" Adjustable Wrench
8" (200mm) Crimping Pliers
8" (200mm) Scissors
8" (200mm) Plastic Level
8oz Rubber Mallet
8oz Claw Hammer
18mm Plastic Knife
12ft (3.5mm) Tape Measure
Voltage Tester
Five Combination Wrenches: 3/8", 7/16", 1/2", 9/16", 5/8"
Sixteen Metric & SAE Hex Keys
Six Precision Screwdrivers
6"" (150mm) Mini Hacksaw
5 Extra Saw Blades
4 Screwdrivers: Slotted: 3/16", 1/4", Phillips: #1, #2
Ten 1"" Bits: 1/8"", 5/32"", 3/16"", 1/4"", PH1, PH2, PH3, PZ1, PZ2, PZ3
Ten 1"" Bits: T10, T15, T20, T25, T27, T30, 1/8", 5/32", 3/16", 1/4"
One Hundred Screws & Anchors Assortment
The box is sturdy, but you can lift and carry it with ease. All of the pink tools are conveniently stored in the box and are quickly accessible.
Apollo Tools,
the toolkit maker, also offers a Lifetime Warranty with the set for their customers. The company confirms that their products are tested against industry standards. And also, their products are of good quality because they are heat treated and also chrome plated to prevent any corrosion.
Tool Kit in Pink for Women to Own
And this is another reason that I want to have my own tool kit, because my husband always gets upset when I use his gadgets and they end up ever so slightly out of place.
So if you are also someone with your own tools and want to keep your significant other out of them, you can get this ladies' pink tool set for her so that she has her own to use.